Large 4 Point Terminal Busbar
.
VTE presents our Large 4 Point Terminal Busbar. These systems allow for multiple connections to positive and negative systems. Each connection post can maintain multiple connections, making them flexible and robust.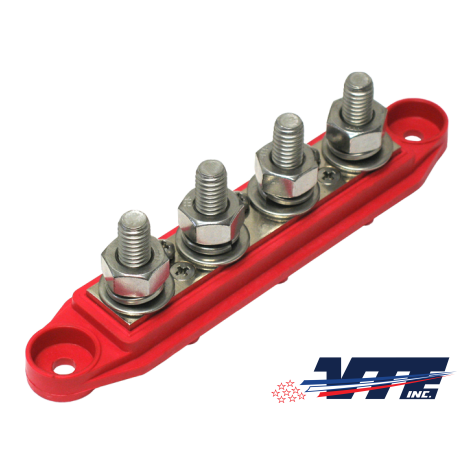 ● Multiple connection points, to accommodate multiple power connections
● Nickel Plated Brass contact plate: high current & anti-corrosive
● Max Amperage:
– 250 amps @ 12 vdc per connection (all post sizes)
● Max Voltage: 48 vdc
● 5/16″, 3/8″, M8 or M10 stainless steel connection posts
● Base Material: 16% Glass-Filled Nylon (Red & Black)
● Mounting screws: #10 (not included)
● Mounting center: 144.78 mm
● Model with cover includes appropriate cover (723 Series) and retaining nuts
● To meet some safety guidelines, protective heat shrink tubing must be used on terminal barrel to insulate against accidental shorts.
| | | | |
| --- | --- | --- | --- |
| Part Number | Description | Type | Category |
| | | | |
| 74008N0N02 | Busbar, 4 Point Large, M8 Post, Red | Assembly | 4 Point |
| 74008N0N14 | Busbar, 4 Point Large, M8 Post, Black | Assembly | 4 Point |
| 74008N1N02 | Busbar, 4 Point Large, M8 Post w/ Cover, Red | Assembly | 4 Point |
| 74008N1N14 | Busbar, 4 Point Large, M8 Post w/ Cover, Black | Assembly | 4 Point |
| 74010N0N02 | Busbar, 4 Point Large, M10 Posts, Red | Assembly | 4 Point |
| 74010N0N14 | Busbar, 4 Point Large, M10 Posts, Black | Assembly | 4 Point |
| 74010N1N02 | Busbar, 4 Point Large, M10 Post w/ Cover, Red | Assembly | 4 Point |
| 74010N1N14 | Busbar, 4 Point Large, M10 Posts w/ Cover, Black | Assembly | 4 Point |
| 74312N0N02 | Busbar, 4 Point Large, 5/16″ Post, Red | Assembly | 4 Point |
| 74312N0N14 | Busbar, 4 Point Large, 5/16″ Post, Black | Assembly | 4 Point |
| 74312N0N14X1 | 4 Point Large, 5/16″ Post, Black | Assembly | 4 Point |
| 74312N1N02 | Busbar, 4 Point Large, 5/16″ Posts w/ Cover, Red | Assembly | 4 Point |
| 74312N1N14 | Busbar, 4 Point Large, 5/16″ Post w/ Cover, Black | Assembly | 4 Point |
| 74375N0N02 | Busbar, 4 Point Large, 3/8″ Post, Red | Assembly | 4 Point |
| 74375N0N02X1 | 4 Point Large, Red, For EMP | Assembly | 4 Point |
| 74375N0N14 | Busbar, 4 Point Large, 3/8″ Post, Black | Assembly | 4 Point |
| 74375N0N14X1 | 4 Point Large, Black, For EMP | Assembly | 4 Point |
| 74375N1N02 | Busbar, 4 Point Large, 3/8″ Post w/ Cover, Red | Assembly | 4 Point |
| 74375N1N14 | Busbar, 4 Point Large, 3/8″ Posts w/ Cover, Black | Assembly | 4 Point |